Cleanse your body from toxins with a detoxifying footbath. Relax your feet in a warm footbath with sea salt while an ionic detox cleanse unit is placed in the water. This results in positive and negatively charged ions being circulated, acting like magnets to attract the oppositely charged ions of toxins, heavy metals and cellular waste. Toxins are excreted through the approximately 2000 pores in your feet. The Detox Therapy Session will result in a boost in the efficiency of the body's natural excretory and toxin elimination functions.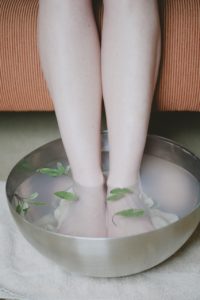 Benefits Of Ionic Foot Detox Therapy
Enhancing and rejuvenating the immune system
Assisting in shortening the recovery time from injuries, surgery and illness
Relieving pain and joint stiffness due to arthritis
Removing heavy metals from the body
Improving sleep patterns
Release muscle soreness after workout
Improving kidney and liver function which are a part of the body's natural toxin elimination system

The color and texture of the water and debris will identify the area of the body that is being detoxified
If you have any questions about our services, call us today at 770-904-2332, or email us.