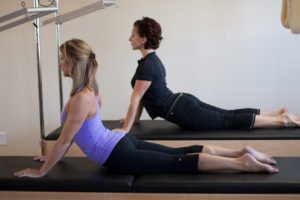 Although Pilates has recently become a popular form of exercise for healthy and active people, Joseph Pilates originally developed his method of exercise for wounded soldiers in World War I. The original equipment was attached to hospital beds, so those injured individuals confined to their beds could exercise and have the opportunity to rehabilitate themselves. In the 1920's Pilates came to New York and his technique and equipment became a popular approach among dancers, actors, and singers.
Pilates is a system of therapeutic exercises that are designed to simultaneously stretch and strengthen, while creating balance in the body. The focus is to integrate the core muscles that support the spine with the upper and lower body, therefore using the body as a whole not dividing it into separate parts. It centers the body with breath awareness and concentration with every movement. The series of rhythmic exercises promotes good posture, lean musculature, coordination, and balance. The combined mental and physical processes (body/mind awareness) results in a reconnection of brain to muscle pathways, which enhance performance create physical grace of movement.
How Professional Athletes Use Pilates
There are many professionals who use Pilates as part of their routine to improve and maintain their bodies in peak, physical condition. Just to name a few…
Cubs pitcher Jake Arrieta
"I just got two Pilates machines, like four or five days ago, so now that's going to be a huge part of my daily routine regardless of where I am during the week. I use it for flexibility and recovery purposes. And I do a lot of work on the TRX (suspension training)."
12 time Olympic Swimming Champion Natalie Coughlin
"You can do so much on the Pilates chair. You can work out your arms, your legs, your core. And it doesn't really take up much room."
Detroit Lions wide receiver Calvin Johnson
"People look at Pilates as sort of a girls' exercise," Picot told SI, "You can ask one of those men I worked with . . . how much we kicked their butts. They were shaking, they were sweating, they were uncomfortable. And then afterwards they felt calm, relaxed, loose."
Pilates Equipment
All five pieces of Pilates equipment can be found at ABove Physical Therapy as well as a variety of small props used to enhance your exercise session. Pilates equipment has evolved over the years to the spring-loaded equipment we know today. The tension from the springs provide resistance as well as assistance where needed. Many pilates exercises are performed lying down on the equipment which can facilitate a gentle progression from non-weight bearing to full weight bearing activities. Pilates equipment is versatile, allowing for many different body types, sizes, and conditions to exercise comfortably. The reformer, Cadillac (Trapeze), Ladder Barrel, Wunda Chair, and Peda-pul.
Benefits of Pilates Exercise. . .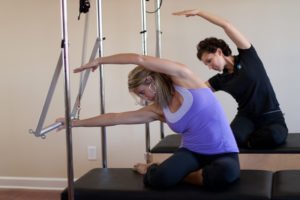 Promotes long, lean, flexible muscles
Increases core strength
Improve muscle tone and body shaping
Increases flexibility
Low impact exercise
Enhances sports performance
Improves body awareness
Enhances balance and coordination
Private Pilates Sessions (55 minutes)
Semi-Private Pilates Sessions (55 minutes)
Each session is tailored to the specific needs and goals of the client. Pilates instructors can focus on toning particular areas of the body, rehabilitating an injury, bringing relaxation and strength to the body, or activity-specific training such as dance, martial arts, or a particular sport. Sessions are taught one-on-one with the instructor or in a semi-private format where two individuals can exercise simultaneously.
Serving Duluth, Suwanee, Lawrenceville, Sugar Hill, Cumming, Alpharetta, and much more!
If you have any questions about our services, call us today at 770-904-2332, or email us.