Personal Physical Therapy Services
When you walk into a traditional Physical Therapy Clinic you are often walking into a large, brightly lit room filled with exercise mats and equipment. But at ABove Physical Therapy, we want to offer you a better experience. You will work with your own physical therapist throughout your sessions and receive personal attention throughout your treatments. We have quiet, individual rooms for manual therapy and other services with the goal of maintaining you privacy and comfort through the course of your treatment.
At ABove Physical Therapy, we will take the time to listen to you and assess your condition accurately. Then, we will create and personally guide you through an individualized treatment plan that is challenging, efficient, and effective.
Patient Centered Approach
Our Physical Therapists are expertly trained in evaluation of human movement and body mechanics. We specialize in identifying and detecting muscle imbalances and joint dysfunctions that lead to injury. At the core of our patient centered approach is our full body evaluation, which guides us in finding underlying dysfunctions that cause the physical symptoms or pain. We then customize a treatment plan to meet your individual needs. We will assist you in restoring your function and achieving your goals while maximizing your future health and vitality.
See Our Complete List of Services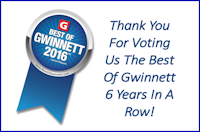 Voted Best Physical Therapist In Gwinnett
We are so very proud of the quality work that we do. And it's a humbling experience when our patients vote us the BEST physical therapist in Gwinnett County. We are committed to providing the best possible treatment options for our patients and we pride ourselves in listening to the concerns and needs of our patients. Whether you're coming to see us due to an injury or simply to improve your strength or flexibility, we will provide you with the tools and encouragement to bring you to your best possible self.

Educational Services
We are so very proud to provide informative lectures at Babies 'r Us on the use and benefits of prenatal / postnatal yoga, pilates and massage. Come see us as we help expectant and new mothers.
For more information feel free to give us a call at 770-904-2332 or email us.