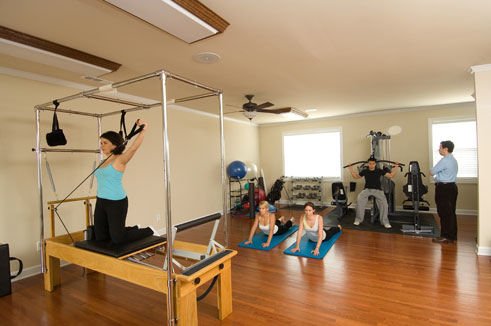 Physical Therapy is a form of healthcare with the primary goal being to develop, maintain, and restore maximum movement potential and functional ability. ABove physical therapists work to promote optimal health and function through the application of scientific principles to prevent, identify, assess, and correct dysfunction.
The therapists at ABove Physical Therapy take pride in the integration of traditional and non-traditional therapies which allows them to provide a unique, customized and comprehensive approach to rehabilitation. They are grateful to be in a profession whereby they can assist someone to improve the quality of their life.
ABove Physical Therapy is equipped with a wide range of innovative exercise apparatus, as well as electrical stimulation, iontonphoresis, ultrasound, heat and ice therapy. Our caring staff, private treatment rooms and state-of-the-art facility insures patients will receive the finest care possible.
Pregnancy and Physical Therapy
Throughout the journey of pregnancy, it is not uncommon for expectant mothers to encounter issues that are treatable with physical therapy. It is our goal to help our expecting patients have as comfortable and enjoyable pregnancy experience as possible. Read more about how we can help you.
What should I expect from my Physical Therapy session?
Your first session will consist of a detailed evaluation. In this total body assessment you can expect a postural analysis, assessment of strength and flexibility, gait analysis, and movement analysis, and assessment of sports performance when appropriate. The physical therapist will discuss their finding with you and develop a plan of care to address these findings.
Exercise apparatus used for physical therapy may include but is not limited to:
GYROTONIC EXPANSION SYSTEM®
Pilates Reformer, Cadillac, Ladder Barrel, Wunda Chair
Bike
Upper Body Ergometer (UBE)
Balance Boards
Small props (magic circle, various sized therapeutic balls, therabands, foam rollers, stretching straps)
TRX
ABove Physical Therapy treats many types of dysfunctions and injuries. This list is by no means exclusive:
Disc bulge/ herniated disc
Sports Injuries, Treatment and Prevention
Joint restriction and pain
Joint and muscle pain
Muscle imbalance
Elbow Pain
Wrist and Hand Injuries
Tendonitis
Carpal tunnel syndrome
Radial tunnel syndrome
Fractures
Neurological Conditions
Balance Problems
During your course of physical therapy, the following treatment techniques and modalities may include but are not limited to:
Massage techniques
Myofascial release
Muscle energy techniques
Dural and Nerve mobilization
Soft tissue and Scar mobilization
Craniosacral Therapy
Visceral manipulation
Lymphatic Drainage
Jones Strain-Counterstrain
Joint mobilization
Stretching
Ultrasound
Traction
Electrical stimulation
Iontophoresis
Heat and Ice therapies
If you have any questions about our services, call us today at 770-904-2332, or email us.